Who They Are
Qumulo, founded in 2012, is a database software company backed by venture capital. Their products focus on managing file data across on-site and cloud infrastructures, leveraging the low price and ease of use of commodity hardware, as well as technologies like flash drives, virtualization, and cloud storage, to allow users a greater degree of flexibility and control in managing how storage is used.
Qumulo's engineering leadership brings with it backgrounds at Amazon Web Services and Microsoft, while most of their C-Suite and board of directors come from non-tech corporate backgrounds. Qumulo's biggest customers include Johns Hopkins, University of Florida, and Telus.
Qumulo began in anticipation of the tech community's growing data processing needs. Recognizing that legacy storage solutions were not designed to scale to growing data volumes, proliferation of file types, and increasingly distributed workloads, Qumulo sought to build a platform that provided visibility, control, and most importantly, scalability.
Qumuo's platform, which focuses on unstructured data, currently provides management tools for workloads at exabyte scale, and claims to manage over 200 billion files. It has also gained some positive attention from the Gartner Magic Quadrant, a series of market research studies published by Gartner, Inc, in the distributed file systems and object storage, as well as hybrid cloud file storage categories.
The Qumulo Platform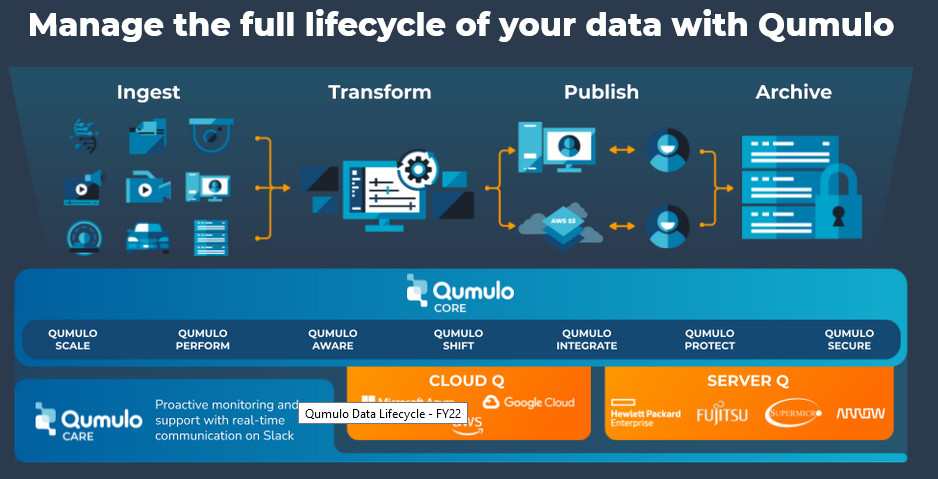 The Qumulo platform consists of three main products: Qumulo Core, designed to store and manage file data, CloudQ, designed to assist users in managing data in cloud environments, and ServerQ, designed to implement software-defined architecture on a variety of hardware platforms.
Qumulo Core
Qumulo Core is intended to provide high-performance data storage and management, as well as workflow creation. It boasts the ability to handle data in its native file format at large (petabyte) scales across multiple, or even hybrid, cloud environments.
Qumulo Core gives users tools that allow them to manage the entire data lifecycle, including ingestion, transformation, publishing and archiving. Primary features include dynamic scaling, automatic encryption, live analytics, and a robust API that enables users to quickly integrate Qumulo into their current tech stack.
Multiple petabytes of active files can be stored in a single namespace which can be automatically scaled. Real-time analytics are available for every single file in the namespace, as well as for each individual user. Furthermore, users can create automated workflows and applications using Qumulo's comprehensive API, which features multi-protocol support. Users can also quickly and easily set up new file clusters on premises or in the cloud.
CloudQ
CloudQ is Qumulo's cloud management system which features petabyte-scale workload creation tools. The main selling point here is the low barrier to entry when compared with the volume of data. CloudQ is developed with the end-user in mind, allowing administrators the ability to access powerful intelligence and management tools to easily monitor workloads.
Workloads can also be easily migrated from on-premises infrastructure to, and across, multiple cloud platforms. This eliminates the timelines associated with large cross-cloud migrations inherent to cloud object stores.
According to Qumulo, CloudQ runs on any cloud, in any region, and will preserve data sovereignty and security.
CloudQ is designed to be AWS and Google Cloud friendly, and can be used as a self-managed infrastructure on these platforms. Azure users have the option of Qumulo-as-a-service, which provides a fully managed service, but lacks the speed and ease of use that AWS and CGP customers may enjoy.
ServerQ
ServerQ is Qumulo's software-defined architecture designed to increase the efficiency of hardware platforms. Designed to run bare-metal on Linux, SeverQ supports the same big-data, high-resource processing mentality as the rest of their product offerings.
While ServerQ is only supported by a handful of hardware manufacturers, users still have several options depending on their needs. It also includes an intelligent cache, which assists in optimizing performance for active data.
When setting up ServerQ, users can select between Qumulo's own in-house hardware, HPE, Fujitsu, or Supermicro servers.
Reviews
Reviews of Qumulo's products are almost always positive, with the majority of users reporting no issues or complaints. Many users have mentioned that they found the products simple, easy to use, and effective at reducing costs and increasing workflow capacity.
There were some issues reported, however, and a few things that potential customers should consider before taking the leap. Cost was a recurring factor that many reviewers seemed on the fence about – several mentioned that, while Qumulo's products aren't the most expensive on the market, they certainly aren't the cheapest.
More technical issues include the fact that certain features are sometimes unavailable without explanation (though this happened rarely, according to the reviewer). SFTP also seemed to be limited, though Qumulo support seems to be working to address that.
One complaint that could be of great concern to some users is the complete lack of support for the S3 protocol – a very useful and increasingly popular storage protocol provided by Amazon Web Services.
There is also the issue that Admin users cannot be tied to SSO or LDAP accounts. Other users mentioned that, while Qumulo's analytics tools are "incredible," they currently do not offer a way to run historical trend data by volume or user. There may also be some persistent issues when it comes to multi-tenancy.
In Conclusion
Overall, Qumulo provides a great set of products and services that seem to be best suited for media and entertainment applications, or companies that require a simple and easy way to manage NAS systems. Their software is intended to simplify the road to cloud-connectivity, and based on user reviews, they seem to accomplish this goal.